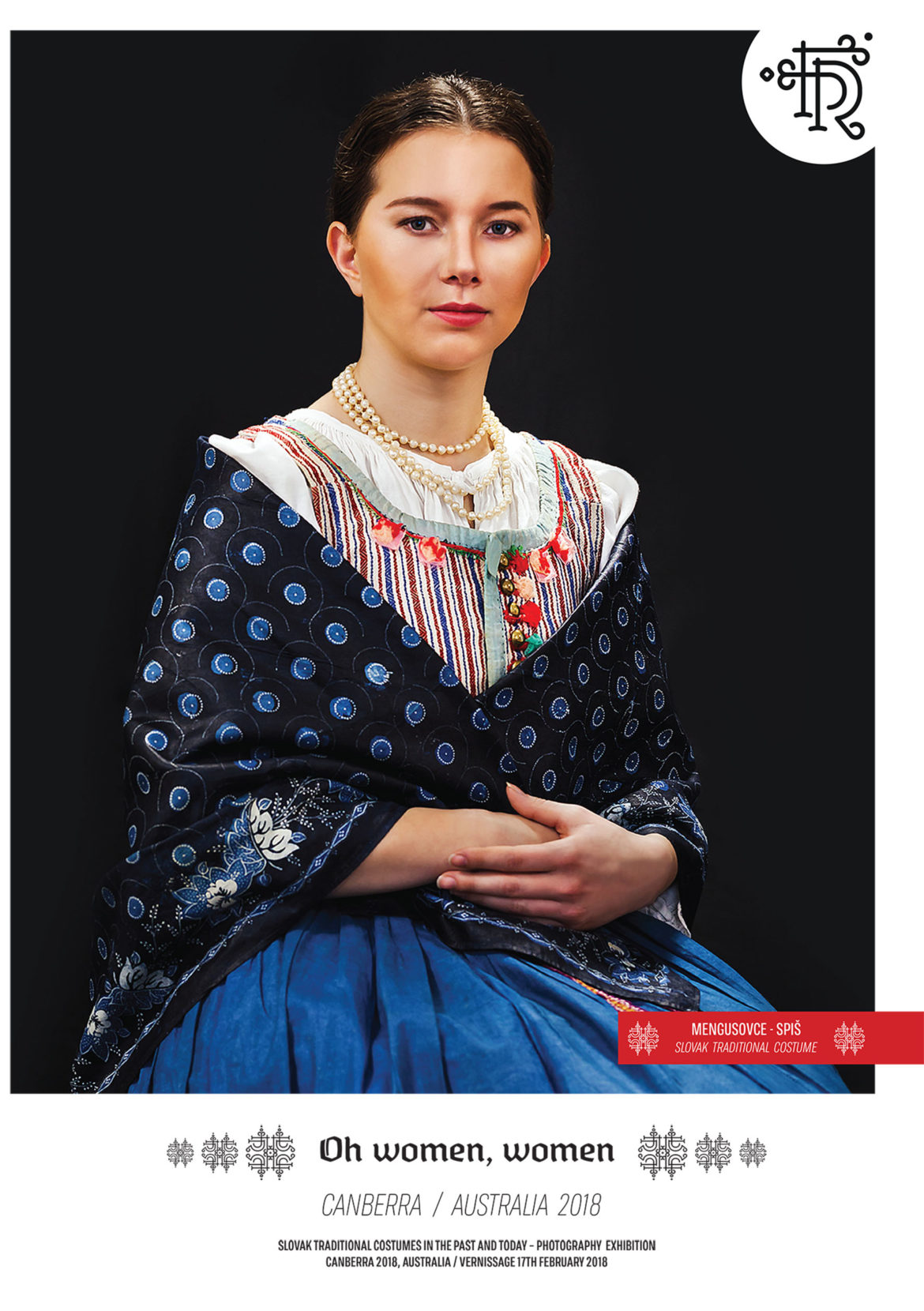 "70 skirts she once had, never got married though…". Who wouldn't know this famous Slovak folk song? Mr and Mrs Krasko not only have a collection of 70 skirts, they have 80 unique historical costumes. Beautiful photographs of these traditional Slovak costumes could have been admired not only in Vienna. They got to vernissage in the far-far Canberra, the capital of Australia.
Tradition as a pure and perfect elegance
It is a hot summer day. There is something about to happen in the green garden of the Slovak Embassy in Australian Canberra. Professional photographer Jozef Spišák is preparing promo materials and postcards and slowly reveals pictures of women from the wrap folia. Gorgeous girls in costumes, both young and older, pictured on dark background, in calash or scarf, with tails or pretzel braid, richly embroidered blouse or coat. One by one all these treasures of the Slovak folk traditions are unveiled.
"It's called a Fine Art Print. That means the pictures are printed on a special high quality paper with UV stability. Photo paper is glued on special Dibond surface made in the USA. This material is used in the world-known galleries for presentation of the priceless artworks," explains Jozef Spišák, photographs author. "I have chosen 35 prints for this exhibition. Project Oh, Women, Women contains a collection of 80 Fine Arts photography prints.
There are women in beautiful, unique costumes on the photographs. You might expect the Slovak girls to be photographed somewhere in the countryside, on the meadow or sitting on wooden bench in front of the traditional Slovak house. That, however, would be wrong. All photographs have simple black background. "For me the black is colour of purity, elegance and perfection," says Jozef Spišák. And really, prints seem to be connecting tradition with modernity and the black background delivers luxury style and class.
Slovakia independence anniversary celebrated at exhibition
Photography exhibition was held as a part of the annual meeting of the Slovak community living in Australia. This year the meeting was celebrating the 25th Anniversary of the Slovak Republic independency.
There have been more than 150 visitors from various parts of Australia to come to exhibition. Honorary consuls of the Slovak Republic in Australia, Ms Eugénia Mocnayová from Victoria and Mr Milan Neklapil from New South Wales, as well as ambassador of the Czech Republic in Australia Mr Martin Pohl attended the Vernissage. There were also a world-known opal grinder Mr Jozef Balička from Australian town Lightning Ridge. Slovak embassy in Canberra also visited the group of Slovaks from the Slovak Social Club "Ludovit Stur" in Melbourne. The event was also accompanied by performance of folklore ensemble Kukabura from Sydney.
"Australia is a huge country, where distances are truly enormous. It is not so common to drive to exhibition in Canberra, if you are in in Sydney or Melbourne. That's why we appreciate this many people to attend," mentioned photographer Jozef Spišák.
Costumes in photographs are priceless
More than 20-year long search and work with traditional furniture has delivered its fruitful priceless results. Mr Pavol and Katarína Krasko found and saved around 80 original traditional costumes from all regions of Slovakia. These costumes are original, beautiful and priceless. They all belong to second half of the 19th century and first half of the 20th century.
They didn't stay hidden in wooden chest, but thanks to the project Oh, Women, Women and aforementioned photography exhibition in Canberra they travelled the world. Mr and Mrs Krasko collected costumes from different regions of Slovakia. Their valuable and large collection comprises costumes form regions Záhorie, Nitra, Tekov, Hont, Horehronie, Podpoľanie, Novohrad, Trenčín, Myjava, Abov, Spiš and many others.
Costumes as a privilege
Folklore in Slovakia has been experiencing a renaissance period during couple last years. A while ago it was "in" to go on salsa, now the folk dance workshops are popular, folklore festivals and courses of traditional Slovak dance for beginners. There are more and more beginners interested in folklore, nowadays. Bridal calash rituals become an interesting business model, as there is hardly any bride that would not like to be wearing beautiful traditional costume with flowered calash at least for couple minutes. Folklore revival in popular music, dance, as well as fashion is undeniable. Ribbons become part of the regular clothes, traditional cloths and components, too. Grandkids search grandparents' attics for old costumes, hoping to find a scarf or a hat. There is still more and more people – mostly women – eager to wear traditional Slovak costume or some its part.
Have you ever wear a traditional Slovak costume? Do you know its price?
It depends on material and richness of embroidery. While some folklore regions like Myjava seem to be simpler, costumes from Podpoľanie or Novohrad may have very rich embroidery created with unbelievable details. A complete costume from the Krasko family collection great value in money. Though, however, is because of the rarity and its age, their value is rather historical and usually priceless.
Exhibited photographs draw attention not only because of the beauty and detailed handcraft. Faces of women that had the privilege to wear these historic pieces are gorgeous and interesting, too. Even though there are rumours about Slovak girls' beauty, in this case it was not a coincidence, but a well-prepared strategy.
Girls taking part in the photo shooting were members of Slovak folk ensembles and groups, experienced with wearing traditional costumes. Gorgeous women on the photographs are members of the folk groups Furmani, Ponitran and Zobor from Nitra, Bažalička from Príbelce-Plachtince, Vranky from Nitra, and former members of Artistic folklore ensemble Mladosť from Banská Bystrica, folk group Oravan from Nižná and dancers from artistic ensembles Lúčnica and SĽUK in Bratislava.
"It's been compelling to work with this plenty new faces and a great team. Even though I already had some experience with such photography, as far as costumes were involved, this has been a new for me. I've learnt so much and the photo shooting has really been fulfilling for my future projects," Jozef Spišák describes photographing of unique costumes.
It doesn't end with exhibition, this is just a beginning
Project author professional photographer Jozef Spišák plan to continue with the exhibition Oh, Women, Women – Slovak traditional costumes in the past and today.
"We aim to approach other countries, I won't specify which, though. Unique demonstrations of the Slovak tradition are soon to be admired in other parts of the world.
Apart from this he also prepares extensive book publication about the project Oh, Women, Women, to be printed in 2019. The publication is going to be visually very attractive with plenty of photographic material.
Folklore regions Association hereby thanks to the Ambassador of the Slovak Republic in Australia and his family for the opportunity to present the project Oh, Women, Women to fellow countrymen living in Australia during the meeting celebrating the 25th anniversary of the Slovak Republic independency.
We also thank to consul Ms Nora Heffner for devoted communication and sacrificial cooperation.
Great thank you also belongs to Ms Veronika Onder for intensive help during the exhibition realisation.
The photographic exhibition was supported by the general partner of the exhibition in Australia YOSARIO – marketing agency.
Thanks also include the Municipal Cultural Center in Nitra, Krasko family from Nitra and the whole team who participated in the realization of the project Oh, Women, Women.